Mount Uludag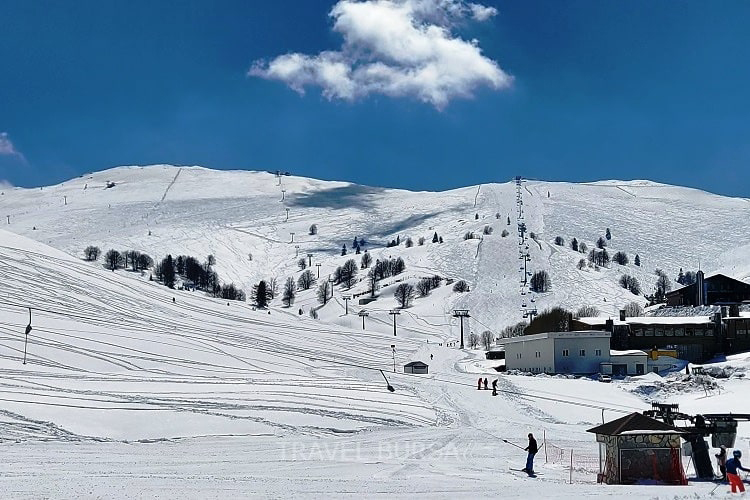 Mount Uludag, on the foothills of which Bursa is settled, in addition to its importance to Bursa, is also the most popular winter sports center in Turkey The mountain, which is called the "Mountain of Monks" because of the settling of the monasteries in old times, officially got the name "Uludag" in 1925.

Uludag is an extinct volcano and is 2.543 meters high. It is a widespread mountain with the villages built on, the high hills, the exuberant forests, the wide plateaus, the long streams, and the numerous lakes. Its peak is the "Uludag Tepe" which is located in "Goller Bolgesi" which contains 7 lakes. When viewed from a distance, the "Hotels area" is assumed as the peak. Though the hill where the "Hotels area" is located is "Kesis Tepe" and its height is 2486 meters.

The Hotels area, which is the winter sports center, is 36 kilometers away from downtown. There is access to the "Hotels area" from the Cekirge district by road, as well as by 9 kilometers cable car line that takes 25 minutes. In the "Hotels area" there are 11 ski tracks, 7 chairlifts, and 6 teleski facilities, shops, and entertainment centers.

In Uludag, alongside the winter tourism facilities, there is an accommodation facility consisting of 46 forest mansions in "Sari Alan Plateau" which is 17 minutes away from the city center with the cable car, that are preferred by tourists who are in Bursa especially for health related problems, in summer.


Uludag National Park and its surroundings are a 1st degree protected area.